Principal Giraldo's News - Medical Forms
Medical Forms – Avoid Student Exclusion
This is an important reminder to all parents that all medical compliance must be turned in no later than October 15, 2015. Students will be excluded from school after October 15, 2015 if students do not have the medical compliance in file. State Law mandates this procedure. Families - students missing immunizations, physicals are receiving notifications from the nurse detailing what needs to be turn in to the school nurse before October 15, 2015. Here are some of the reasons why you may be missing compliance documentation:


| | |
| --- | --- |
| Kindergarten | Missing physical or not completed immunizations required by age 4 |
| New Child | Not turned in required immunization |
| Child in Six grade | Child/family has not turn in the required immunization |
| Children in grades 7 and 8 | Children has not had the new Tdap shot (New for 2012-13 school year) |

If you receive a letter from school read the information carefully and provide the necessary documentation before exclusion date October 15, 2015.
Request your physician office to fax to our school a copy of the completed physical form and/or date of appointment before exclusion date. We must receive compliance documents before exclusion date. Our schools fax number 773-534-5483. You can also call our school 773-534-5490 and request to communicate with our nurse who is at school Mondays and Wednesdays. Thank you parents to help our school with this process.

During inclement weather, students will wait indoors by the assigned areas. Students will enter thru door #7 and go to their assigned sections. Students will wait quietly at the location for their teachers to start the school day and instructional time. No students are allowed to go upstairs and wait at their classrooms before 8:50am. Students wait at the assigned locations until their teachers pick them up before school starts.
PK parents can walk children to the corresponding PK classroom.
K students wait in the red cafeteria under the supervision of Mrs. Mondragon until their teachers pick them up.
1st grade students wait close to classroom assignments located by room 101.
2nd grade students wait by the PK rooms.
3rd grade students wait by the water fountain and auditorium/Assembly Hall.
7th and 8th grade students wait by door 3 and room 107 and 108
No students are to go upstairs and wait at their classrooms. They are to wait at the assigned locations until their teachers pick them up.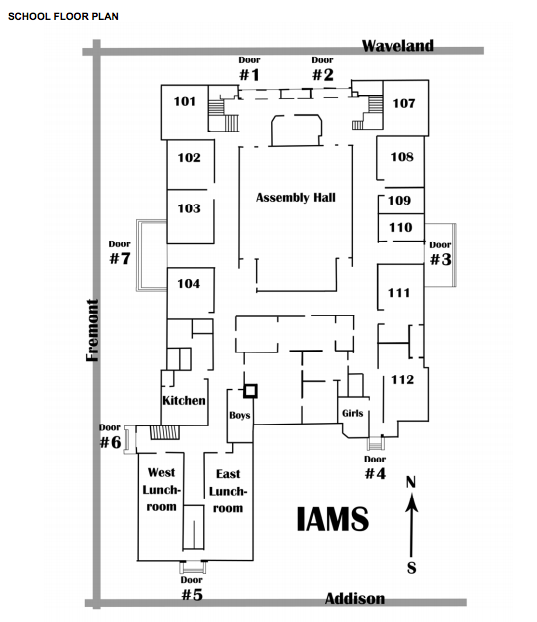 Students who usually ride a school bus must bring a note signed by parent/guardian if they are to go home by other means. The note should include parent signature, phone number to contact parent, date & note explaining request. Unless the teacher or main office receives written notification from parent/guardian your child will ride the bus home as usual.
If there is a change in your standard routine for student pick up, send a note with your child to the teacher and/or main office. Make sure the person's name/information you are assigning to pick up your child is on your child's emergency form. These arrangements must be planned ahead of time. Students are permitted to use the school main office phone to communicate with parents.

School Arrival
We just wanted to remind you of a few housekeeping procedures to keep our children safe as they enter the building.
Parents are not allowed to park in the teacher's parking lot (near Door #4). This causes blockage when teachers are trying to park and enter the building. It also affects the flow of traffic with the buses parking on Waveland to drop kids off.
There is a blue police horse meant to block the parking lot. Please do not cross the police horse, this lot is only for teachers.
The parking lot for parents is located on Addison Street. You take a ticket for this lot, and if you are at the school for more than 30 minutes, you must get this ticket validated at the Security Officer's desk near the Main Office.
When the orange cones are in place, parents are not permitted to drive down Fremont. We block Fremont in order to create a safe space for bus drivers to park and for children to get off the bus and enter the building.
Please closely monitor your speed when driving children to school. We have many children who walk to school, and we want them to have a safe passage as well.

To maximize and respect teaching and learning time, we expect students to arrive at school on time. School hours for students are from 9:00 a.m. to 4:00 p.m. Students are expected to arrive at school by when the arrival bell rings. Therefore, if a student arrives at 9:00 a.m. or later, the student is late and needs to obtain a tardy pass from the school security guard or in the main office.
If we all work together, our entry procedures will be much more effective. Thank you for continued support and understanding!

Vacation absences taking place during the school year are not excused - fallowing CPS policy.