IAMS Informational Meeting November 4, 2015
Inter-American Magnet School Dual Language Program Informational meeting

Invite Parents of incoming Pre-kindergarten - 8 students to learn about our excellent Dual Language Academic Curriculum (Spanish/English) - School Year 2016-2017. Parents of incoming Pre-kindergarten - 8 students are welcome to attend IAMS Dual Language Immersion Program Informational Meeting. The meeting location will be at 851 W. Waveland Avenue, in the school auditorium. Presentations will be available in English and Spanish.

Wednesday, November 4, 2015
5:00-6:00 pm English & Spanish Presentation

Thursday, November 5
5:00-6:00pm English & Spanish Presentation

Those who attend this meeting can receive all the details about this excellent program and meet teachers and parents of students who are currently enrolled in the program. For more information on the Dual Language Immersion Program contact Dr. Diego F. Giraldo, School Principal, at (773) 534-5490. The Dual Language Program gives students the opportunity to learn in Spanish and English while experiencing the standards based curriculum of The Americas. If you are interested in our program you must visit this link to apply online at: www.apply.cps.edu to request a pin as soon as possible BEFORE DEADLINE.
Reunión Informativa para padres interesados en el programa dual de la escuela Inter-American Magnet
Se invita a todos los padres de familia de Pre K a 8vo grado que deseen matricularse para el programa dual de la escuela Inter-Americana Magnet año escolar 2017-18 asistir a las siguientes reuniones informativas. Las reuniones informativas proveen a las familias información de nuestro programa educativo de educación dual de inmersión en Español e Ingles. La reunión se llevara acabo en la escuela ubicada: 851 W. Waveland Avenue, auditorio. La presentación se realizara en Ingles y Español.
Miércoles 4 de noviembre del 2015
5:00-6:00 PM presentación Ingles y Español

Jueves 5 de noviembre del 2015
5:00-6:00 PM presentación Ingles y Español

Las personas que asistan esta reunión podrán recibir información de nuestro programa y conocer a nuestra facultad del plantel educativo. Para mas información al respecto de nuestro programa de educación dual por favor comunicarse con nuestra escuela y director al número telefónico (773) 534-5490.
EL programa de educación dual le provee a todos los estudiantes la oportunidad de una educación lingüística y académica en dos lenguajes; una experiencia de educación global basada en el currículo de las Américas. Si usted esta interesado en este programa debe de visitar la siguiente conexión magnética para empezar el proceso de matricula en línea lo mas ante posible antes de la fecha limite www.apply.cps.edu
Hermanos de lestudiantes actuales asistiendo a las Escuelas Públicas de Chicago ( CPS )
Esto es para proporcionarle información importante acerca de las solicitudes para el año escolar 2014-2015 para los estudiantes. Si usted tiene un niño que desea matricularlo en una escuela pública de Chicago para el año escolar 2014-2015 , y ya tiene un niño matriculado en la escuela , usted debe completar y presentar una solicitud para su hijo que desea matricular por medio de la pagina "
Options for Knowledge application process
www.apply.cps.edu
"
El apellido del hermano matriculado y número de identificación de CPS DEBE ser incluido en la solicitud. Candidatos con hermanos en escuelas del grupo Magnet elemental, o escuelas de inscripción abierta tienen preferencia sobre los solicitantes de lotería con no hermanos y se ofrecerán asientos disponibles en la medida estos esten disponibles. Si una escuela recibe más solicitudes de hermanos que plazas disponibles , una lotería computarizada se llevará a cabo para llenar los asientos.
El término " hermano " significa hermanos naturales, hermanastros , hermanos adoptivos y hermanos adoptados. Para ser elegible, el hermano matriculado y el solicitante hermanos deben vivir en el mismo hogar . El solicitante no puede ser inscrito como un hermano , si los graduados de hermanos matriculados o transferencias a otra escuela. Si estudiantes ya graduados de hermanos matriculados o transferidos a otra escuela, el solicitante hermano se colocará en la lotería general solicitante.
Usted puede solicitar en línea en www.apply.cps.edu ( haga clic en " Paso 1 " para iniciar el proceso ) , o presentar una solicitud en papel , accesible en www.cpsoae.org ( haga clic en " Aplicar " y " Materiales de aplicación ' de solicitud estandarizada Escuelas Primaria ) . La fecha límite de solicitud es el 13 de diciembre de 2013. Los estudiantes que no tienen una solicitud presentada en la fecha límite no serán elegibles para la admisión en el curso escolar 2014-2015 . Si usted tiene preguntas o necesita ayuda con el proceso de solicitud , no dude en ponerse en contacto con la Oficina de Acceso y matrícula en (773) 553-2060 o oae@cps.edu

Siblings of current Chicago Public Schools (CPS)

This is to provide you with important information about applications for the 2016-2017 school year for students. If you have a child that you want to enroll in a Chicago public school for the 2016-2017 school year, and you already have a child enrolled in that school, you MUST submit an application for your child through the Options for Knowledge application process www.apply.cps.edu

The enrolled sibling's last name and CPS ID number MUST be included on the application. Sibling applicants to elementary magnet, magnet cluster, or open enrollment schools receive lottery preference over non-sibling applicants and will be offered seats to the extent that space is available. If a school receives more applications from siblings than there are seats available, a computerized lottery will be conducted to fill the seats.
The term "sibling" means natural siblings, step siblings, foster siblings and adopted siblings. In order to be eligible, the enrolled sibling and the sibling applicant must live in the same household. An applicant cannot be enrolled as a sibling if the enrolled sibling graduates or transfers to another school. If the enrolled sibling graduates or transfers to another school, the sibling applicant will be placed in the general applicant lottery.

How to Apply
You can apply online at www.apply.cps.edu (click 'Step 1' to begin the process), or submit a paper application, accessible at www.cpsoae.org (click 'Apply' and 'Application Materials' for a Standard Elementary Schools application). Check the application deadline. Students who do not have an application submitted by the deadline WILL NOT be eligible for admission in the 2016-2017 school year. If you have questions or need assistance with the application process, please do not hesitate to contact the Office of Access and Enrollment at (773) 553-2060 or oae@cps.edu.

Medical Forms – Avoid Student Exclusion
This is an important reminder to all parents that all medical compliance must be turned in no later than October, 2015. Students will be excluded from school after October 15, 2015 if students do not have the medical compliance in file. State Law mandates this procedure. Families - students missing immunizations, physicals are receiving notifications from the nurse detailing what needs to be turn in to the school nurse before October 15, 2015. Here are some of the reasons why you may be missing compliance documentation:
| | |
| --- | --- |
| Kindergarten | Missing physical or not completed immunizations required by age 4 |
| New Child | Not turned in required immunization |
| Child in Six grade | Child/family has not turn in the required immunization |
| Children in grades 7 and 8 | Children has not had the new Tdap shot (New for 2012-13 school year) |

If you receive a letter from school read the information carefully and provide the necessary documentation before exclusion date October 15, 2015.
Request your physician office to fax to our school a copy of the completed physical form and/or date of appointment before exclusion date. We must receive compliance documents before exclusion date. Our schools fax number 773-534-5483. You can also call our school 773-534-5490 and request to communicate with our nurse who is at school Mondays and Wednesdays. Thank you parents to help our school with this process.


Parent Volunteers

Room Parents are not the only parents helping our teachers, but the play a vital role in our school. Our children are the ones who ultimately benefit from having a room parent in their classroom. Please consider becoming one. For more information about the volunteer training meeting or becoming a room parent, please contact Elsa Shalaveyus or Jennifer Goolsby at volunteer@iamschicago.com.

Please check our CPS calendar for teacher and parent events
http://cps.edu/SiteCollectionDocuments/SY15_16Calendar.pdf
http://cps.edu/Pages/DistrictCalendar.aspx

During inclement weather, students will wait indoors by the assigned areas. Students will enter thru door #7 and go to their assigned sections. Students will wait quietly at the location for their teachers to start the school day and instructional time. No students are allowed to go upstairs and wait at their classrooms before 8:50am. Students wait at the assigned locations until their teachers pick them up before school starts.
PK parents can walk children to the corresponding PK classroom.
K students wait in the red cafeteria under the supervision of Mrs. Mondragon until their teachers pick them up.
1st grade students wait close to classroom assignments located by room 101.
2nd grade students wait by the PK rooms.
3rd grade students wait by the water fountain and auditorium/Assembly Hall.
7th and 8th grade students wait by door 3 and room 107 and 108
No students are to go upstairs and wait at their classrooms. They are to wait at the assigned locations until their teachers pick them up.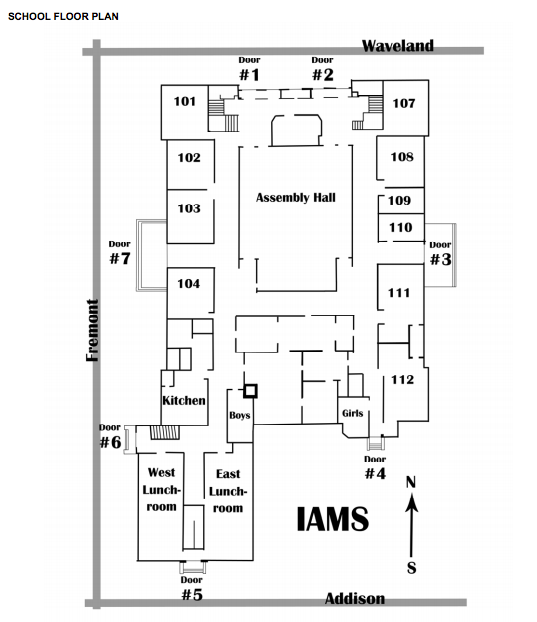 Students who usually ride a school bus must bring a note signed by parent/guardian if they are to go home by other means. The note should include parent signature, phone number to contact parent, date & note explaining request. Unless the teacher or main office receives written notification from parent/guardian before 3pm your child will ride the bus home as usual.

If there is a change in your standard routine for student pick up, send a note with your child to the teacher and/or main office. Make sure the person's name/information you are assigning to pick up your child is on your child's emergency form. These arrangements must be planned ahead of time. Students are permitted to use the school main office phone to communicate with parents. Early dismissal before 3pm.

School Arrival
We just wanted to remind you of a few housekeeping procedures to keep our children safe as they enter the building.
Parents are not allowed to park in the teacher's parking lot (near Door #4). This causes blockage when teachers are trying to park and enter the building. It also affects the flow of traffic with the buses parking on Waveland to drop kids off.
There is a blue police horse meant to block the parking lot. Please do not cross the police horse, this lot is only for teachers.
The parking lot for parents is located on Addison Street. You take a ticket for this lot, and if you are at the school for more than 30 minutes, you must get this ticket validated at the Main Officer's desk.
When the orange cones are in place, parents are not permitted to drive down Fremont. We block Fremont in order to create a safe space for bus drivers to park and for children to get off the bus and enter the building.
Please closely monitor your speed when driving children to school. We have many children who walk to school, and we want them to have a safe passage as well.

To maximize and respect teaching and learning time, we expect students to arrive at school on time. School hours for students are from 9:00 a.m. to 4:00 p.m. Students are expected to arrive at school by when the arrival bell rings. Therefore, if a student arrives at 9:00 a.m. or later, the student is late and needs to obtain a tardy pass from the school security guard or in the main office.
If we all work together, our entry procedures will be much more effective. Thank you for continued support and understanding!